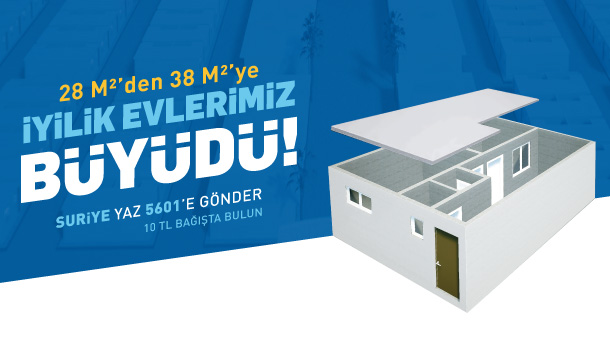 ---
Goodness Residences
The destructiveness of the impact of wars on man and nature is an incontrovertible fact. This devastating effect makes itself even more intense in winter conditions.
The war that has been going on in Syria since 2011 has caused many people to lose their lives, while also causing many people to lose their relatives and their homes. Families forced to leave their homes under bombardment and attacks seek refuge in other countries if they succeed. Families trapped in their own land are struggling to survive in tents and scattered campsites in difficult terrain and seasonal conditions.
In 2019, hundreds of thousands of people left their homes and began an immigration wave to regions close to the Turkish border due to the attacks on Idlib. Families who leave everything behind and hit the road have no place to get their heads around except for mosques and tents. The need for qualified shelter is vital for families who are warm in summer, cold in winter and unprotected against mud.
The Turkiye Diyanet Foundation, which has been supporting the Syrian people in many fields from education to charity services since the beginning of the war, aims to improve the living standards of war-torn families, especially orphans and disabled families, with its Goodness Residences project campaign launched with the theme of "One Goodness, One warm Home" for families struggling to survive in difficult conditions.
Within the scope of the campaign, we increased the size of our houses, which we had previously built as 28 square meters, to 38 square meters. We enable our war-torn families to live a more comfortable life with our 2-room, 2-room, iron-doored, the roof made of concrete with bathroom, toilet, kitchen, and courtyard, and which we do without reinforced concrete resistant to all kinds of weather conditions.
---