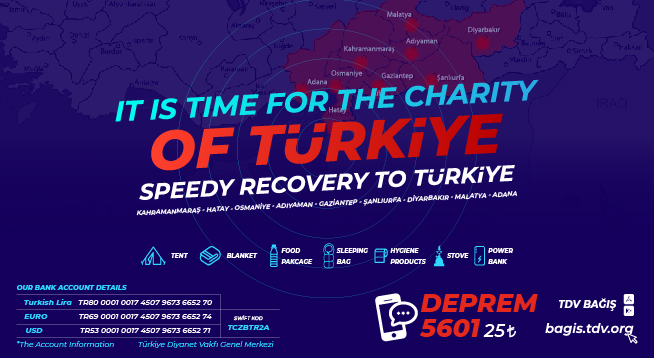 ---
Earthquake
Earthquakes that negatively affect the economies of the country can cause great crises and grievances according to their intensity, caused by sudden vibrations due to fractures in the earth's crust, shaking the environments they pass through in waves, destroying buildings and businesses, and causing loss of life and property.
In the areas where earthquakes occur, problems are encountered that may make it difficult for people to sustain their lives, particularly in the shelter, as well as hunger and cleaning. People can be desperate in the face of what is described as a natural disaster and wait for a helping hand to reach out from the moment it occurs. The Turkiye Diyanet Foundation also heals wounds by responding immediately to earthquakes in Türkiye and abroad in terms of delivering urgent humanitarian aid. With the support of our esteemed charitable, we try to alleviate some of the pain of the incident by delivering urgent humanitarian supplies such as blankets, heaters, hot meals, water, and hygiene packages to earthquake zones. Families whose homes have been destroyed or unable to enter their homes due to the tremors are trying to survive with aid sent to the area.
You can also donate 25 TL by writing DEPREM and sending an SMS to 5601 to make the victims feel that they are not alone in the earthquake that is based in Kahramanmaraş and affected 10 provinces and to support our "It Is Time For The Charity Of Türkiye" campaign. You can also donate from our online donation site, branches, provincial and district muftis, banks, TDV donation mobile applications, and PTT branches without paying any commission fee.
---