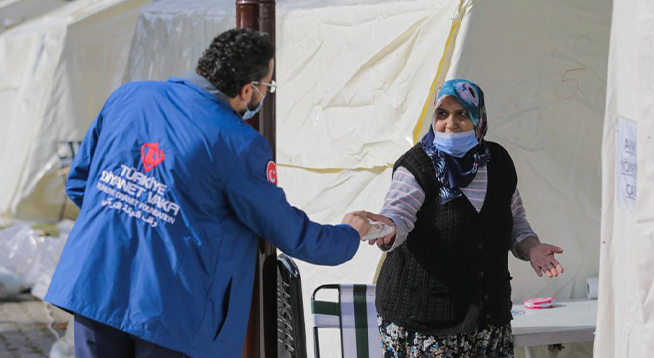 ---
Earthquake
Earthquakes that negatively affect the economies of the country can cause great crises and grievances according to their intensity, caused by sudden vibrations due to fractures in the earth's crust, shaking the environments they pass through in waves, destroying buildings and businesses, and causing loss of life and property.
In the areas where earthquakes occur, problems are encountered that may make it difficult for people to sustain their lives, particularly in the shelter, as well as hunger and cleaning. People can be desperate in the face of what is described as a natural disaster and wait for a helping hand to reach out from the moment it occurs. The Turkiye Diyanet Foundation also heals wounds by responding immediately to earthquakes at home and abroad in terms of delivering urgent humanitarian aid. With the support of our esteemed charitable, we try to alleviate some of the pain of the incident by delivering urgent humanitarian supplies such as blankets, heaters, hot meals, water, and hygiene packages to earthquake zones. Families whose homes have been destroyed or unable to enter their homes due to the tremors are trying to survive with aid sent to the area.
After the 6.6 magnitude Izmir earthquake, the epicenter of which was off Seferihisar in Izmir, Turkiye Diyanet foundation reached the region quickly and identified the needs. We offered hot soup, food, bread, sweets and water to families who could not enter their homes through our mobile kitchen, which has a capacity of 10,000 people, and to the teams working in the region. addition, disaster materials containing materials such as air duct tents, generators, sound devices and water tanks were purchased and delivered to AFAD logistics warehouses. In addition, we delivered aid materials such as blankets, heaters and hygiene packages to our earthquake victim families in the region.
---