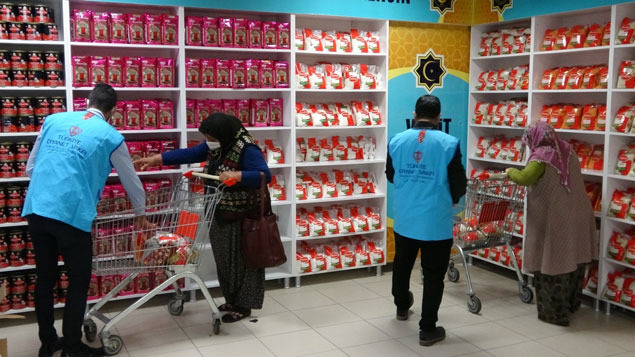 ---
Goodness Bazaar
"And spend of your substance in the cause of Allah, and make not your own hands contribute to (your) destruction; But do good; for Allah loveth those Who do good." Al Baqarah, 195.
For close to fifty years, our foundation has provided a ray of hope for the needy through its acts of charity. By creating 'Goodness Bazaars,' we have been fulfilling the requirements of our less fortunate fellow individuals.
Carrying on the legacy of goodness and charity inherited from our civilization, our foundation is today extending its journey of benevolence, not only within our country but also across the world. In our campaign of benevolence, embarked with the goal of "Until Goodness Prevails on Earth", we continue to expand our activities.
Through the "Goodness Bazaars" that we have established within the framework of our foundation's branches, we provide support to the needy, surrounding areas from food to clothing, hygiene products, and children's necessities.
Our needy brothers and sisters, whose requirements have been determined, can shop at the "Goodness Bazaars" throughout the month as much as they need.
Following the path of our Prophet (ﷺ) who said, "Allah helps His slave as long as he helps his brother." we serve as a means to fulfill the needs of our brothers and sisters. You can also join our campaign of benevolence and contribute to fulfilling the needs of our brothers and sisters for a month.
---